Back in 2016, mobile technology the like of which had not been seen before rolled into the remote community of Funhalouro, in Mozambique.
Pulled by donkey, the container consisted of four LCD screens, powered by solar panels.
It was a mobile roadshow, starting with music to draw a crowd and then switching to a three-minute film on the biggest of the screens.
While the topic – digital literacy – was not the most entertaining, it was engaging for the audience, many of whom had never seen a screen or moving images before.
After the film, the audience was invited to use smaller touchscreen tablets to answer a series of questions about what they had seen.
There were prizes of T-shirts and caps for those with the highest scores.
For those who couldn't read, the questions were posed in diagram form.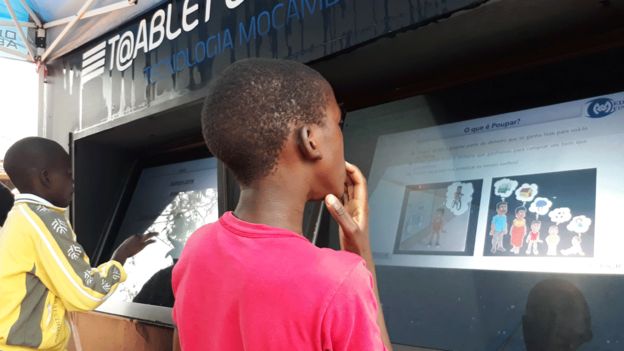 "When we arrive in a community, we try and make it a party," said Dayn Amade, founder of the Community Tablet.
"We want to attract people and we do it with music."
Sub-Saharan Africa is projected to have 634 million mobile users by 2025, up from 250 million at the end of 2017, according to GSM Association, the trade body for mobile carriers.
Adoption of mobile technology has transformed lives, from providing people with a way to bank for the first time to helping farmers improve their crop yield.
But some countries fare better than others.
While in Kenya mobile penetration is at 91%, in Mozambique less than half of its 31 million population have mobile connections.
For some, the tablet is their first ever interaction with a screen
The Community Tablet aims to fill this gap and the entertainment is just the precursor to the real point of the roadshow – to educate and empower remote and rural communities on a range of topics, from public health to mobile banking to why it is important to take part in elections.
Mr Amade, who was born in Mozambique, got the idea as he watched his two young sons and saw how addicted to their tablets they were and how quickly they learned how to build things by watching YouTube tutorials.
"I said to myself that this can be used in rural communities where people aren't able to do basic things because they have never had a tutorial," he said.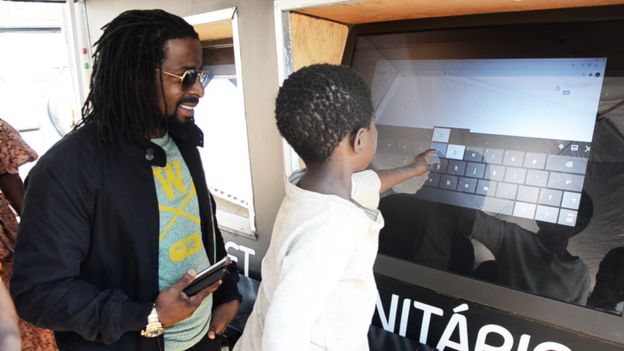 There have been plenty of initiatives to increase the use of technology in countries such as Mozambique, often with patchy results.
The One Laptop Per Child initiative, for instance, aimed to transform education but failed to deliver on its promises.
Source: BBC